The European Project ScienceDIVER (Project id: 863674 – EMFF Blue Economy 2018 – Blue Careers) invite you to the online meeting on "SCIENTIFIC DIVING: PRESENT AND PROSPECTS IN GREECE", which will take place as part of the European Maritime Day-In my Country, on Tuesday, April 6 and 7 PM. The event will present and discuss issues related to the developments and prospects that arise for scientific diving in Greece.
The webinar will begin with a brief presentation of the ScienceDIVER project outlining its objectives. This will be followed by the presentation of the results of three surveys related to Vocational Recognition as well as the Legal and Educational framework of scientific diving at the international level and the formulation of some proposals for the development of scientific diving in Greece.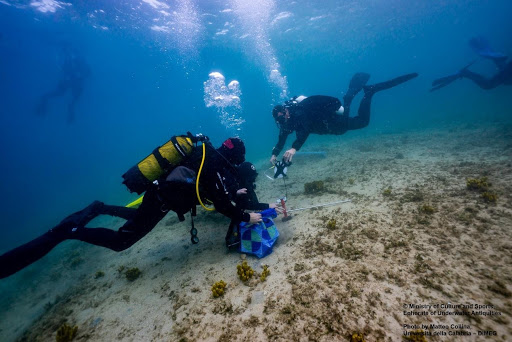 The discussion committee will include Dr. Kimon Papadimitriou, from the Aristotle University of Thessaloniki, Coordinator of their ScienceDIVER project, Dr. Themistoklis Ioannidis from Atlantis Consulting, partner of the ScienceDIVER project and Dr. Alexandros Tourtas, Underwater Archaeologist, Postdoctoral Researcher. The panel will be moderated by Angelos Maglis, Founder of Atlantis Consulting SA, partner in the ScienceDiver project.
The importance of scientific diving lies in the fact that relevant research is an important factor in controlling the quality of the oceans, which cover 71% of the earth's surface. According to the United Nations, 2021-2030 was designated as the Decade of Ocean Science for Sustainable Development and therefore the development of related sciences. At the same time and at the local level, the close relationship that develops between Autonomous Diving and Citizens' Science helps significantly in the preservation of the marine natural and cultural heritage of the place and consequently the sustainability in the Greek seas.
The purpose of the online discussion is to inform and raise awareness of stakeholders and independent researchers so that a practical and sustainable framework is formed in Greece in harmony with international developments in the field of scientific diving.
The meeting will be held online on Tuesday, April 6 and 7 PM
Duration of the meeting: 7PM to 8PM
The participation in the meeting is secured by registering at the following link
Sign Up Here